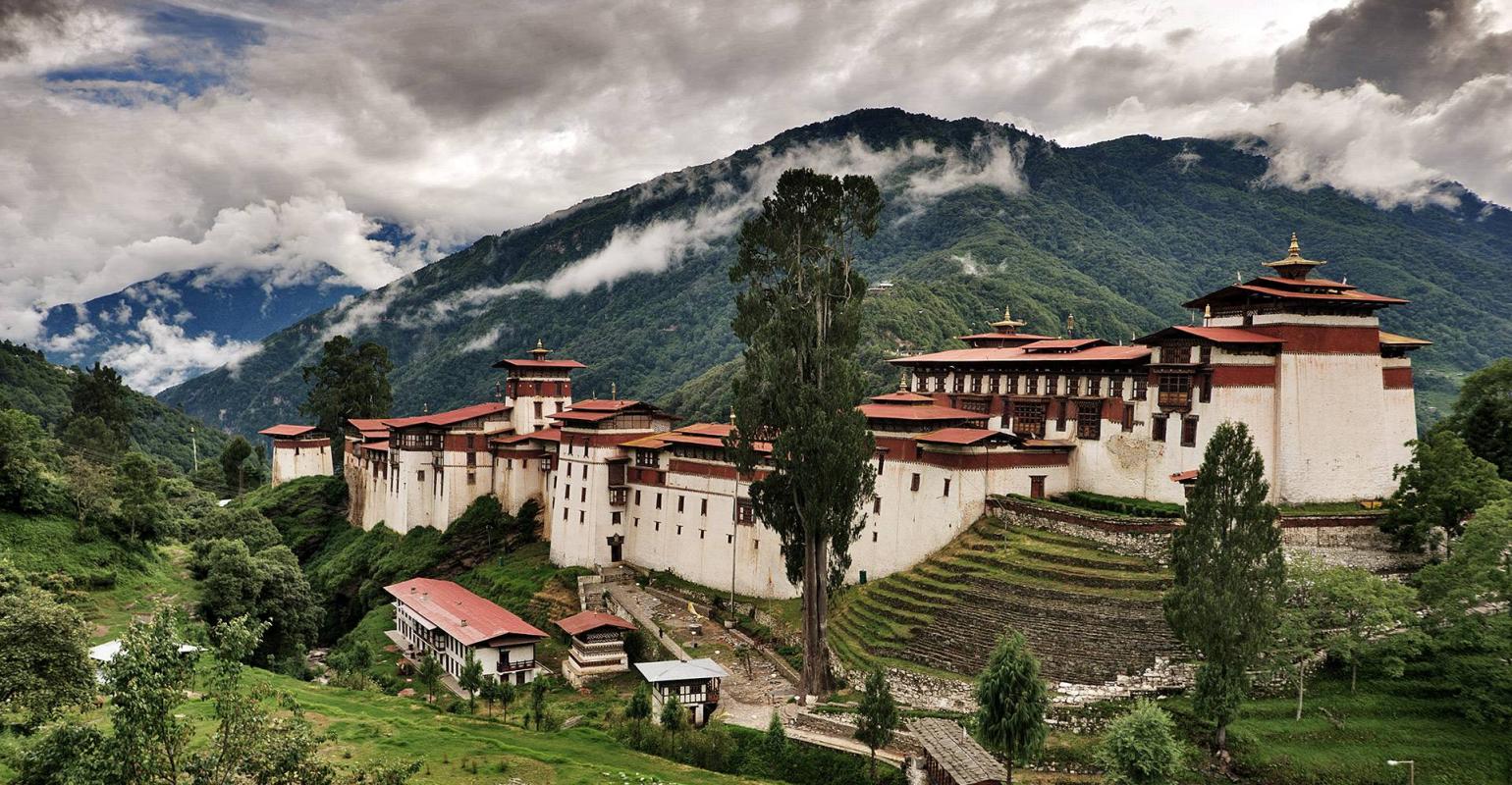 Trongsa (Altitude 2,300m/7,545ft.)
The landscape around Trongsa is spectacular. It was from here that the present royal family emerged as the most powerful force at the beginning of the last century. The Royal family has strong links with Trongsa. Both the First King Ugyen Wangchuck, the Penlop of Trongsa and his successor, Second King Jigme Wangchuck, ruled the country from Trongsa's ancient Dzong. The Crown Prince of Bhutan has always held the position of the Trongsa Penlop prior to ascending the throne. The Fourth King continued this tradition as he was appointed Trongsa Penlop in 1972 shortly before he ascended the throne of Bhutan. The present King, Druk Gyalpo Jigme Khesar Namgyel Wangchuck was appointed Trongsa Penlop on 21 October, 2004.
Places of interest around Trongsa
Trongsa Dzong which is the largest Dzong in Bhutan at an altitude of 7,500 feet is a labyrinth of temples, corridors and office holding court over the local community. Protected from invaders by an impenetrable valley, Trongsa Dzong is an impregnable fortress. It is built on many levels into the side of the hill and can be seen from every approach to Trongsa heralding its strength as a defensive stronghold. The Dzong was originally built in 1648 by Shabdrung Ngawang Namgyal, which was later extended by its powerful Penlops, and the sixteenth Desi Sonam Lhundub. Because of its highly strategic position as the only connecting route between east and west, the Trongsa Penlop was able to control the whole of the eastern region effectively. It was the seat of power over central and eastern Bhutan. Trongsa Dzong is the ancestral home of the Royal Family and both the First and Second King of Bhutan ruled the country from this ancient seat. All four Kings held the post of Trongsa Penlop (honorary governor) prior to being crowned as King.
Ta Dzong or watch tower which once guarded Trongsa Dzong from internal rebellion stands impressively and provides visitors an insight into historical significance of Trongsa in Bhutan's history.
Chendebji Chorten (Stupa) is enroute to Trongsa and is patterned after Kathmandu's Swayambhunath Stupa, with eyes painted at the four cardinal points. It was built in the 18th century by Lama Shida from Tibet, to cover the remains of an evil spirit that was subdued at this spot. Kuenga Rabten is about 23 km and about one hour interesting drive from Trongsa town.
Kuenga Rabten was the winter palace of the Second King and now looked after by National Commission for Cultural Affairs. It is a pleasant afternoon trip from Trongsa and offers good insight into the early days of Bhutan's Monarchy.