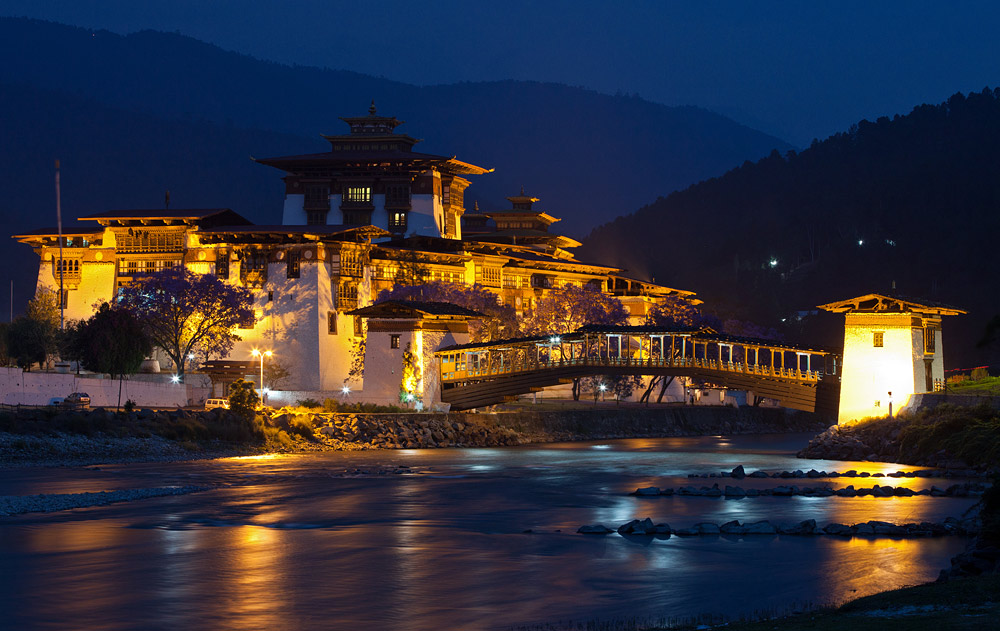 Punakha (Altitude 1,310m/4,300ft)
Punakha served as the capital of Bhutan until 1955 and is still the winter seat of Je Khenpo (Chief Abbot). Blessed with temperate climate and fed by Pho Chu (male) and Mo Chu (female) rivers, Punakha is the most fertile valley in the country with abundant with crops and vast terraces of rice fields. There are splendid view of the distant Himalayas at Dochula pass (alt. 3,100 m) on Thimphu - Punakha road.
Places of interest around Punakha
Punakha Dzong, a massive structure at the junction of two rivers built in1637 by Shabdrung Ngawang Namgyel is 600 feet long and 240 feet wide, with a sprawling 6 –storey rectangular tower. It is the most beautiful and well-known fortress connected with Bhutan's historical traditions. The valley and Dzong of Punakha was the seat of power and politics in medieval Bhutan.It was in Punakha, the first hereditary Monarch, King Ugyen Wangchuck was enthroned on 17 December 1907. Punakha served as the winter capital till 1955 and Punakha Dzong continues to be the winter residence of the Central Monk Body. In spite of four catastrophic fires and an earthquake that destroyed many historic documents, Punakha Dzong houses sacred artifacts and embalmed body of Shabdrung Ngawang Namgyel.
Chimi Lhakhang is situated on a hillock in the centre of the valley, is dedicated to Lama Drukpa Kuenley, who in the late 15th century used humour, songs and outrageous behaviour to dramatize his teachings and due to this also known as 'Divine Madman'. This temple is also known as the temple of fertility. It is widely believed that couples who do not have children and wanting one, if they pray at this temple, they are usually blessed with a child very soon. It is an half an hour leisurely walk across a local village, rice fields from the road to the temple. It then follows a tiny stream downhill to Yoaka and across more fields before making a short climb to Chimi Lhakhang. There are few young monks at the temple, which is surrounded by a row of prayer wheels and some very beautiful slate carvings.
Khamsum Yulley Namgyal Chorten (Stupa) was built to remove negative forces and promote peace, stability and harmony in the changing world. The Chorten dominates the upper Punakha Valley with commanding views across the Mo Chhu and up towards the mountainous peaks of Gasa and beyond.